Is it possible to find true love online?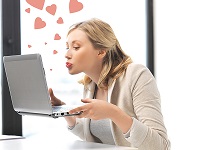 2014-11-03 19:06
Is it possible to find true love through the Internet? Surely many of the 16 and older have tried to meet with someone on dating sites or just in social networks. After all, the World Wide Web provides great opportunities for meeting and socializing. And for some people chat and dating online is a myth. Each of them is right in it's own way. The opportunity to find love became available with the advent of online dating sites. You can found love in the bus and on the Internet. Only the network it will be faster and easier. And here you will find everything you want: you can just find love or talk with interesting people all over the world. Online dating blurs the boundaries between countries and continents and this is it's greatest power.
Real stories of online dating.
Jon's plane taxied to a gate at Los Angeles International Airport, and although he had been flying for 30 hours on a journey from South Asia to California, his heart pounded at the prospect of wrapping Katie, his fiancé-to-be, in a bear hug. In a week and half, Jon would put his grandmother's diamond ring on Katie's finger and the ring would be woefully too big. The oversight was not due to thoughtlessness on his part, nor a mishap at the jeweler. It was because Jon had never once held that hand in real life. The couple met online while she was in San Diego and he was on a mission in South Asia. That initial contact led to months of e-mails and phone calls before they've met in the flesh. Today the couple are happily married with a baby girl. Despite the current atmosphere of distrust, falling in love sight unseen, often through the written word, has been happening for centuries. The Web has only made it easier. Some experts say communicating online before meeting IRL (that's In Real Life) can actually foster strong relationships by helping those with similar interests come together over great distances. Potential lovers overlook superficial turnoffs, and people open up to each faster and more deeply. Grey talked with Michelle for about six months online before climbing on his motorcycle and driving from San Diego to Denver to see her in person for the first time. He never left. Thirteen years later, they got married, ironically enough for the technologically inclined couple, in a 1870s Victorian-themed ceremony. Since Grey and Michelle's love connection, the prospect of online love has become more and more mainstream. A study found that nearly one-quarter of heterosexual couples surveyed had met via the Web, making the Internet the second-most-common way to find a partner after meeting through friends.
How to be sure in the honesty of the interlocutor?
Of course, not all online love affairs pay off as well as those detailed above. Manti Te'o fell for a woman he was told died of cancer, a woman he had to say "goodbye" to twice after he found out she never existed. The Web is full of tricksters. One study found that a lot of online daters admitted to lying about their weight, height, age or a combination of the three on their profiles. The Web allows users to present their best selves to the public, and sometimes those selves are exaggerated. There is the chance to be fooled, but nowadays modern marriage agencies trying hard to make it as low as possible.The chance to meet a good friend or even the love of your life are pretty high. Here is a couple of simple rules for personal safety:
Try to plase your resent photos, avoid photos with cars and material stuff, outdoors photos are best;
Don't hint on your wealth, short "without material problems" will not attract crooks and wouldn't push away potential friends;
Don't give your full information, do not include your home address, last name or your e-mail address, the more information you give, the more chance of becoming a victim of fraud;
Be honest, but try not to tell all about yourself;
Nothing ventured - nothing gained.
If you are not sure about trying to find your love online, just do it. The most important advantage of dating sites is the fact that there were people who are looking for love just like you. And there are a lot of these people - hundreds of thousands. You have the opportunity to meet people from all over the world by joing dating site. You are not limited by the city, region and can find someone with such interests as you. In addition, one of the pluses of online dating is anonymity. Those who searching for love feel protected in some way. When communication becomes unpleasant, it is easy to to interrupt it at any time. You can decide what information to provide about yourself. You can give a phone number after a brief conversation in real life and it can cause obscure calls in the future. With virtual communication, you may give the phone after a long relationship in the network. This will help avoid any unpleasant surprises. It should be noted that when you are dealing people real life you should be well dressed to impress. When you talk on the Internet, sitting in a chair, you can relax. Especially it is easier for people who do not have much time for conventional dating. And if you're a shy or nervous in the presence of the opposite sex, it is easier to send a message than to speak first.
Of course it's not always possible to find someone close to you with the same interests, with the same attitude immediately. So you have to look for it by trying and making mistakes. And every mistake is perceived as a failure. It is hard to believe that you will find that one and only. But do not despair, learn you're your mistakes, and you will still have an extra chance to find a loved one through a dating site. On these sites, there are many people who also came here to arrange their lifes. And they are serious about it.
So, should you try to find your love online? Of course! The modern world is not standing still, you need to use every opportunity to meet people. Then your life will become more colorful, brighter and more interesting. Think about that there is a person somewhere in the network that sits behind the monitor and searches for you. Be an optimist, and you will get lucky.