Tour to Ukraine in search of the bride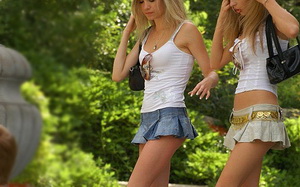 2015-06-25 23:40
Recently, Ukrainian women have started seeking husbands abroad more actively and this is really good fact for the men who seek splendid looking girl in Eastern-Europe. The most popular cities to tours in search for Ukrainian bride are big Ukrainian cities.
According to international dating sites, the inhabitants of Donetsk, Kharkiv, Dnepropetrovsk and Kyiv, marry foreigners pretty often.
Ukraine has become a popular destination to look for foreign mates in recent years. According to statistics, a great number of men, who desire to unite their destiny with the Ukrainian citizens, are from Spain, Israel, USA, Turkey and Germany.
As it turned out at one of the meetings of the Knesset Commission, in support of status of women, more than 300 men only from Israel come to Ukraine annually searching a bride. Today there are dozens of international dating sites which specialize in organizing wedding tours to Ukraine, chiefly in Kherson and Odessa.
Is it really easy to find a bride through international dating sites?
At the same time, according to marriage agencies stats of Lviv, Donetsk and Kiev, in the conditions of crisis the quantity of people wishing to find overseas man has increased by half this year. As the representative of one international marriage Agency says, Ukrainian women have been more demanding of candidates: "Marriages with foreigners are a really frequent matter. And it is not so simple to locate female clientele, as a woman, marrying a foreigner, requires sacrifices – cause these ladies leave her family, friends, career." According to Ministry of the justice stats, over the last four years in Ukraine, there were almost 19 thousand marriages with foreigners.
Why Slavic women are so popular at the international dating sites?
The cost of the tour in three cities of Ukraine differs from agency to agency. The market of brides for foreigners is stretched out on the floor of the globe: far from the Philippines to Eastern Europe. But even in such a wide range, Slavic women stand apart. Why? Professional matchmakers say that they figured out this mystery long ago. Our women know how to love and how to be real princesses. They have such a feature. Western psychologists who work for international dating sites state more pragmatic. Foreigners are looking for a combination of European beauties and such traits as flexibility, obedience which is a part of Slavic brides character.