The best flowers for your girlfriend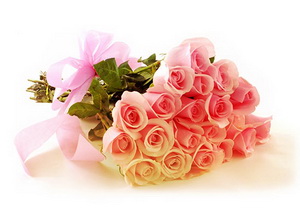 2015-06-20 23:08
As you know, the flowers are one of the best presents for every girl. That is so sweet to get a bouquet from your loved man. But what flowers should be for a girl to appreciate your choice?
On what do you have to pay attention when you are choosing the flowers? The florists say, first of all, that's going to be the flowers' freshness. You have to check every flower.
Fresh flower buds are always solid, elastic and smooth, without the torn petals. The petals are without dark spots and when you flex them they are immediately getting straight. The leaves and the stems should be bright green color. The buds do not have to be tightened with rubber bands.
Do not buy already made baskets. You can often find there broken and sluggish flowers. It is better to choose every flower by yourself and ask to make a flower composition.
The florists recommend…
If you want the flowers to be fresh for a long time, you need to take them out of the box and carefully cut two centimeters on the bias, and get rid of the excess lower leaves to provide access to water.
Roses are the most precious flowers
You can present roses in combination with tender greens, or you can make a composition of white and red roses. This combination is a sign of style and elegance.
Everyone agrees that the choice of the flowers depends on your purse.
Of course, roses are expensive flowers. So you can choose chrysanthemums. They will be in the middle price category. The advantage of these flowers is that even three branches will make a luxurious bouquet because of their fluffy hats. And the chrysanthemums mix with other colors very well.
It is possible for everyone to pick up the flowers even with the minimal costs.
Mimosa can be one of the budget options. Do not buy mimosa in advance. You can present mimosa only if the flowers are fresh. Look carefully, the scented branches have to be completely blossomed. If not then the buds won't open.
Tulips are another inexpensive option. Variety of colors allows you to choose colors for every taste. And by the way tulips stay fresh for a long time.
If you want the flowers to remind of you for a long time, then you can present the flowers in the pots, for example crocus, violet, hyacinth or cineraria.
The florists' advice
Pay attention on these rules. It's better to put roses and tulips in cold water and you should put chrysanthemums in hot water, you can also add two teaspoons of sugar. You have to change water every three days, wash the stems under running water and cut them off per one centimeter.
If you carry out these simple procedures, any flowers can stand for about two weeks, making coziness at home.