Preparing for marriage. How to start this process correctly?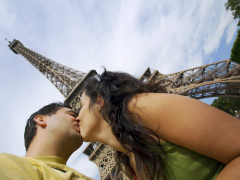 2015-08-09 00:00
Congratulations! You are ready to start to prepare for your long-awaited wedding – the event you have dreamed about the whole life and found on dating online site. You have already met the person with whom you are ready to spend the rest of your life. Do not hurry, because this period of preparation can become one of the most pleasant times of your life that will be full of positive impressions and memoirs. After all it is so nice and honorable to be a fiancée from a dating online site.
Of course, you want your wedding to become the happiest day in your life and your main intention is to make everything just perfect. So how should you start the preparation for your wedding correctly?
The first step is to make a detailed plan for your wedding day. Such a plan is the key to a successful organization of your celebration.
Here you can read the basic hints that will be useful for a good beginning in your preparation for the wedding.
Start to write all your plans, events, contacts of people who will be involved in wedding preparation in a special diary. Take this diary with you while meeting with people who help you with the wedding of dating online site.
Buy a folder in which you will put all the leaflets, press-cuttings, ads and other papers that are related to the wedding celebrations together.
It is advisable to have a notebook or tablet for creating Excel files at your fingertips .With the help of them you will be able to organize the budget for the wedding efficiently. Also such electronic files are useful for creating a list of guests, writing the text for invitations etc.
Start a special calendar where you will mark the time of important meetings and wedding rehearsals.
Look through dating online sites, wedding magazines and other specialized literature or web-sites. Save the photos of wedding gowns, accessories, wedding cakes that appealed to you. These visual aids will be helpful while meeting with the organizers of the wedding as you will be able to show and to explain what you actually want.
Set a particular period of time when you will be able to dedicate yourself to the planning of the celebration.
If you feel tired from this endless fuss, and preparation for the wedding is no longer a joy for you, put everything aside and have a rest. After such a pause look at the results of you work and you will see that you have already achieved much. This feeling and proud for yourself will give your new power to continue preparing your dating online sites lover.
If your celebration is around the corner and you are planning to organize a large-scale wedding it is advisable to hire a wedding planner who will fulfill a great part of work. If you have no money to hire such a person ask your friends or relatives to help you with this issue. Choose those people, who have some experience in the wedding planning. These can be married girlfriends, sisters or cousins.
And, of course, do not forget to involve your fiancé in the process of preparation. In such a way you will be able to make him an inseparable part not only of the wedding itself but also of the preparation for this great event.
First steps
Imagine your wedding day. Close your eyes, use your imagination and think what should you do to make your wedding a special event which will remain in your memory only positive impressions. Ask your beloved man to do the same. Rely on your sub consciousness, let the pictures emerge in your head; you should only try to control the process of visualization. After doing so write down all the moments that are related to wedding décor and the overall wedding organization. This simple visualization will help you to understand what celebration you actually want, enjoy the dating online sites, information on them and of cause new opportunities, fresh faces if your fail with actual one.
• Calculate roughly how much you are going to spend on your wedding. At this stage it is difficult to plan your budget, but you can estimate an approximate sum of money necessary for the basic stages of this important event. The main expenses include: appearance of the newlyweds, wedding decoration and décor, photographer, wedding registration ceremony, banquet etc. Of course, you will need more money for small details. That is why do not spend the whole sum only on the things listed above, when you decide to marry your dating online sites women.
Determine the date of your wedding
Choosing the date of the wedding day depends on several factors
season when you want to get married
scope, format and concept of celebration
availability of the place where you intend to organize your ceremony
ability to take a holiday or vacation
leeway necessary for your wedding organization
It is advisable to have the leeway of 6-9 months before the wedding itself with your girl from dating online site. During this time you will be able to choose the place of your wedding and to make reservation of it without problems. Time should be one of your main concerns while preparing for this event. It will take about three months to organize even the most informal and smallest wedding.
Do not worry if your plans are changed and you have to postpone the date of your celebration. According to statistics, all unexpected problems while preparing for the wedding will contribute to the better results, and your dating online site muse would be totally yours.
After you have chosen the date, plan each hour of your wedding day. You should carefully consider all the stages of your celebration: the trip to the place of registration, registration ceremony, the newlyweds` walk + photos, the wedding banquet etc. Of course, you should reserve little time for force majeure.
Make a guest list with together with your women from dating online site who you want to marry soon. You should make two lists if you have invited different people for wedding ceremony and to the banquet. When you are making the list of guests remember one predicted pattern: about 5-10 percent of invited people will not be able to come. That is why if you want to save money do not reserve the places in restaurant for all guests who have been invited. Also think about guests who will arrive from other cities. Plan beforehand the place where your will arrange these people for the period of celebration.