How to choose an engagement ring?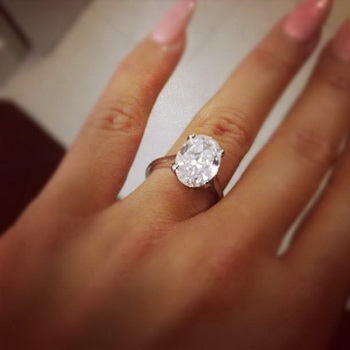 2015-07-05 23:20
You have already went through each detail, on how you will make her an offer to marry you. You have gathered all your courage. The only one thing left – to choose the engagement ring of your dreams for beautiful Ukrainian women.
Choosing an engagement ring, future grooms are faced with different pros and cons. During the selection, in addition to the attractiveness of the ring, there are such issues as weight in carat, the price and many tips of sale-consultants.
Principles of selection of engagement rings for beautiful Ukrainian women
Material of engagement rings for beautiful Ukrainian women
The gold is used most commonly. Pure gold 999.9 is not used because of its softness and fragility. For strength and giving a color tint, they add silver and copper to gold. Gold 750 (18K), yellow gold with the addition of silver, is considered the most optimal for the engagement rings. However, it is more common gold 585 (14 carat) in Ukraine. Вeautiful Ukrainian women like the color and are very familiar with this type of metal.
To achieve the pink color of the gold copper is used.
Special attention should be paid buying rings in white gold. To achieve this shade, they use additives of nickel or palladium. Generally, manufacturers do not indicate the full composition, it is necessary to check with the sellers. The fact that palladium is a precious metal and is hypoallergenic. Nickel does not have such a value and may cause skin irritation. In recent years, platinum is increasingly used for engagement rings. Platinum is valued higher than gold, but lose the white gold in color. Platinum has a dirty-gray tint.
The classification of diamonds depends on the size, measured in carats, color, clarity and cut. Design engagement rings for beautiful Ukrainian women. Trends in the design of engagement rings are divided into:
Classic
Fashion
Art-design
Classic engagement rings consist of one or more round diamonds. Fashionable design of engagement rings means using of colored diamonds of various grinding metal (matte, glossy) and unusual gemstone cuts. Art-design includes a vintage ring and the use of unconventional materials such as wood, steel and so on.